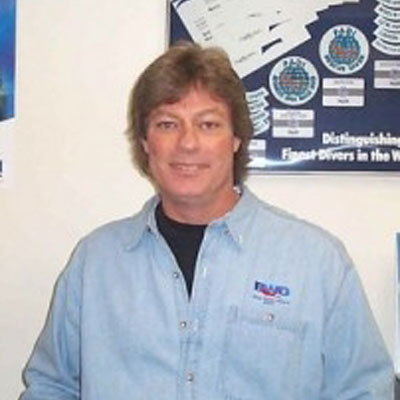 Our Course Director, Bob's diving career began in 1986 and he attained his first Professional PADI rating in 1988.
Since then, Bob has been certified to teach fourteen PADI Specialty Diver Courses. Bob has also authored three distinctive Specialty Diver courses that have been approved and accepted by PADI. He holds the Emergency First Responder Instructor Trainer rating, and is an Instructor Trainer for the Tec Deep, the Tec Tri-Mix, and Gas Blender programs. Bob is also an Instructor for three other training agencies, which include instructing Oxygen First Aid for DAN, Technical Diving for IANTD and TDI, and Tri-Mix Diver. Bob has extensive experience in Northeast wreck diving, as well as many other areas of the world.
When Tri-Mix diving first became available, Bob sought out training with Billy Deans of Key West, Florida. That training has provided the opportunity to explore many deep wrecks in the Northeast and Florida. Some of these wrecks are: Andrea Doria, U-869, S.S. Carolina, Ronald B. Johnson/Corey & Chris, Lowrance, and Hydro-Atlantic. Cave diving in the caves of the Yucatan Peninsula in Mexico have also found their way into his career.
Bob is also certified as an Emergency Medical Technician, was accepted as an Associate Member of the Undersea and Hyperbaric Medical Society, and currently holds a United States Coast Guard 100 Ton, Near Coastal, Masters License.